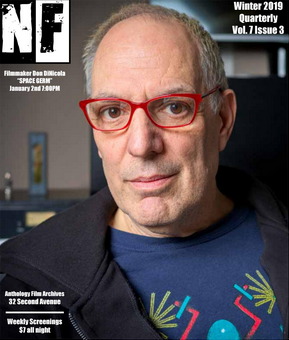 Filmmaker and composer Don DiNicola just completed a new score for Emmy Award-winning director, Patty Zagarella's web-series "Blind Love", to be released in 2020.
Their previous collaboration on the film, "Baring It All" won an Emmy Award in 2011.
This past summer Don's latest film, "Space Germ" was selected as part of the Brooklyn Film Festival's BFF Kids Film Fest. The screening was attended by a full house, graciously hosted by festival director Lisa King and followed by a Q&A with the kids!
Earlier in the year, "Space Germ", an animated film written and directed by DiNicola, had its world premiere at New Filmmakers NY 2019 Festival, screening at the Anthology Film Archives. It was one of the last screenings in the Anthology Film Archives historical, original space. While we were there, we saw the plans for the new renovation which looks fantastic! Can't wait!!
Late 2017 Don completed a full score for John Scagliotti's new documentary, "Before Homosexuals". The film marks John and Don's 3rd collaboration and we think it was the best one yet. Although "After Stonewall" was pretty fabulous as well!
In early 2018 Don's animated short "ORIGINS 'Before There Was A Before'" was a finalist at the German United Film Festival. "Origins" also received the 2016 Phantasmagorical Film Festival's Best 3D Animation award. Employing all of his filmmaking skills, "Origins" has a 5.1 sound mix, includes original compositions and stars Fredi Walker-Browne ("Rent" and "The Lion King").
In 2015 Don directed and produced an original score by Renée Baker, recorded by the Chicago Modern Orchestra Project, for the 1925 Oscar Micheaux film "Body and Soul", starring Paul Robeson. The film received a grant from New Music USA to screen with a live orchestra sound track. It was performed at the Museum of Contemporary Art, Chicago, the Ebertfest, the Chatham 14 multiplex, and continues to tour internationally.
Don's animated film, "A Rabbit's Life; In 3 Parts", premiered at The Big Apple Film Festival 2014 and won Best Experimental at the 2015 Humboldt International Film Festival in California.
His mixed-media short, "Karma Cats; The Chintamani Stone" spent two years screening at film festivals internationally with a special screening at the SoHo House Screening Series of Best British and International Shorts.
In 2006 Don's feature film directorial debut, "Nowhere Now; The Ballad of Joshua Tree" (Victoria Williams, Eric Burdon) enjoyed a vibrant life on the international film festival circuit before being picked up for a year by PBS affiliate KCET in Los Angeles. The film had a headline appearance at the Tucson Film and Music Festival which included live performances by bands featured in the film - Gram Rabbit and The Sibleys.
His composition and music supervisory work also appears in the Emmy Award-winning shows; "Suicide Bombers/Cult Of Death" (Discovery Channel), "The Art Of Failure; Chuck Connelly Not For Sale" (HBO), "Miami Ink", "The First 48" and, most popularly, "How It's Made". DiNicola has written and produced music for Nat Geo, The History Channel, PBS, A&E, TLC, Discovery Channel, CNBC, Style Network, SundanceTV, and HBO networks.
In 2011, Don formed Eureka Post Production, supervising video and audio post-production for over 300 hours of broadcast TV programming including more than 1500 episodes of the hit show, "House Hunters International".
Don is a founding faculty member of the Vermont College of Fine Arts MFA in Music Composition Program.